---
David Cassidy rules and all, but let's face facts: After phenomenonal success on the Partridge Family and before his comeback in music and on stage during the 80s, 90s and now into the 21st century, he starred in what, through no fault of his own, has gone down in the annals of television history as one of the dumbest cop shows ever: David Cassidy - Man Undercover.

Aside from one passing reference, David didn't even mention the one and only television series where he had top billing in his autobiography. With Keith Partridge still firmly etched in the minds of America, the show was doomed from the moment it was titled. For as one astute observer asked: how can he be "David Cassidy", Undercover?? The show is put down all over the internet, for example, at Marathon Guide.com, someone commented that, "on my register of fun, racing a 10K [3 days after running a marathon] ranks somewhere between an afternoon of watching reruns of David Cassidy: Undercover and mowing the lawn with broken scissors" (see links for more).
There are nevertheless, some of us who think that any show with David Cassidy in it, no matter how bad, is worth watching and this site is for true David Cassidy fans everywhere who appreciate ALL of his work. After all, the show sucked in spite of David, not becuase of him and he did turn in at least one great performance in the last episode. So, if you want to learn about this often overlooked and least-documented phase of David's career, do read on...
The series centered around the cases of Dan Shay, a policeman in his late 20s working as part of an LAPD undecover team headed by Sgt. Walt Abrams. Much like The Mod Squad before him, Dan generally played the youth angle, infiltrating a gang of young bank robbers, posing as a college student to crack an illegal adoption racket, pretending to be a drug addict to nail a doctor selling narcotics prescriptions.
Originally, it looked like a great idea. The series was a spin-off of a two-hour Police Story movie called A Chance to Live (original title: Narc) that featured David as an undercover cop infiltrating high school drug rings. It was David's first post-Partridge TV role, one that still had a PF-connection. Mel Swope, one of the Police Story producers, was a producer on Partridge Family as well. A Chance to Live aired Sunday, May 28, 1978, and finished fifth in the Nielsens. David was nominated for an Emmy as best dramatic actor, but didn't win. NBC, impressed by the high-ratings and critical acclaim for the Police Story episode, quickly commissioned a series based on the movie.
Unfortunately, the television series that followed was marred by extremely weak writing. Not that the basic storylines were bad, but the show suffered from many, many inconsistencies: in one episode Shay is kidnapped and his team arrives out of nowhere to rescue him, without them ever having been told that he had been kidnapped in the first place!?!? Things like that, along with the corny way that this young cop is always getting his way with his boss and other superiors, instead of taking orders as he should just made the whole premise dumb. (Imagine Danno telling Steve McGarrett the best way to run 5-0).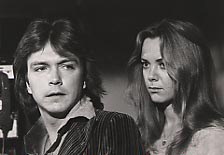 At home, Dan's wife Joanne and daughter Cindy were as supportive as they could be, but Joanne worried constantly and often got jealous of the girls Dan would help or look after in the line of duty. While the writers could have used this 'undercover cop at home' angle to great advantage, it was boring and repetitive with Joanne making the same complaints week in and week out with no development or resolution in this storyline beyond the simple 'kiss and make up' at the end of each episode. It is a mystery as to why Wendy Rastatter got third billing as her contribution to each episode is minimal.
As a result of these problems, the series never grew to be more than a pale imitation of A Chance to Live. It lasted only eight weeks as a midseason Thursday-night (between 10:00 - 11:00) replacement for W.E.B. and was pulled off the air after the eight episode on Jan. 4, 1979. Two additional episodes aired in July with the repeats.
Still, despite its problems, the show was a flicker of things to come in the TV cop show business. Its rock 'n' roll infused score (which included the DC-Jay Gruska penned "Hard Times, Hard Times" title tune), gritty themes and hip young cast would go on to influence 21 Jump Street (this show, in fact, was created by people who had worked on Undercover) and Miami Vice.
If you have information, newspaper clippings, articles, photos or any
other information to contribute to this site, feel free to email me: dcmu@chezgrae.com.
This site copyright © 1997-2012 by Graeme Smith.
The Mod Squad, my other Classic TV site.
Updated 28Jun02